We love a bit of clean makeup here at Onrotate. Clean makeup has become a major trend in the beauty industry in recent years, as consumers increasingly seek out products that are free from potentially harmful ingredients. But what exactly does "clean" mean when it comes to makeup and which brands are leading the charge in this space? In this blog post, we'll explore the world of clean makeup and illustrate the growing trend by highlighting some of the best brands that are making a difference.
Let's clarify what we mean by "clean" makeup. Firstly, clean makeup refers to products that are free from ingredients that have been linked to health concerns. Examples of such ingredients are parabens, phthalates and synthetic fragrances. Secondly, clean makeup is free from animal-derived ingredients. Thirdly, it is produced in an environmentally responsible manner. In addition, we're seeing clean makeup now delivering skincare too. Examples of such skincare ingredients include good quality SPFs, vitamin C and hyaluronic acid.
Now, let's dive into some of the best clean makeup brands on the market, from both here on our South African shores and abroad.
Fenty Beauty – Clean Beauty and Makeup
Founded by Rihanna in 2017, Fenty Beauty is now a major player in the beauty industry with its focus on inclusivity and diversity. The brand is committed specifically to using clean and sustainable ingredients in their products without compromising on performance or pigmentation. Likewise, their vegan and cruelty-free status is aligned with the values of many conscious consumers. Furthermore, the range caters to all skin tones and types whilst prioritising ethical and clean practices.
Kjaer Weis
Kjaer Weis is a luxury clean beauty brand, founded by Danish makeup artist Kirsten Kjaer Weis. The brand's products are certified organic and made with natural and sustainable ingredients. The brand has totally committed to reducing waste. For example, its products come in refillable metal compacts. One of the brand's standout products is its Cream Blush. It comes in a range of shades and provides a natural-looking flush of colour. Made with organic beeswax and jojoba seed oil, in short, it nourishes and hydrates the skin. So what's not to love?
RMS Beauty
At the forefront of the clean makeup movement since its founding in 2009, RMS is already a clean heavyweight. RMS's founder, Rose-Marie Swift, is a makeup artist who was concerned about the potentially harmful ingredients in traditional makeup products. Therefore, her products are free from all these harmful ingredients while still delivering excellent performance. The best-selling product is its "Un" Cover-Up Concealer/Foundation. The winning formula provides buildable coverage while hydrating and nourishing the skin. 
Kosas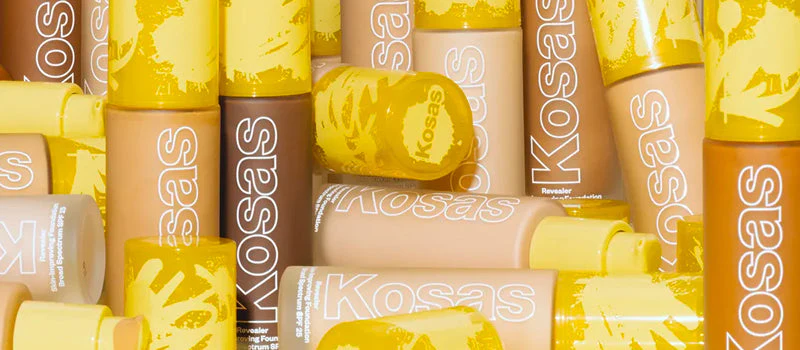 Kosas is all about effortless beauty. Sheena Yaitanes founded the brand in 2015. The products are designed to enhance natural beauty in addition to providing nourishing benefits to the skin. Kosas products are formulated with natural and organic ingredients. The brand is committed to sustainability which can be seen in its packaging and manufacturing processes. One of the brand's best-selling products is its Tinted Face Oil. It provides lightweight coverage as well as nourishing the skin with ingredients like avocado oil and jojoba oil.
Ilia Beauty
Ilia Beauty is another brand that is leading the charge in clean makeup. Sasha Plavsic founded Ilia Beauty in 2011. The products are formulated with natural and organic ingredients. Ilia Beauty is committed to sustainability and an example of this is in the use of recycled aluminium in its packaging. The Limitless Lash Mascara provides length and volume without clumping or flaking and is one of the brand's bestselling products. Made with nourishing ingredients like shea butter and arginine, it is free from harmful chemicals like carbon black and petroleum-based ingredients.
Rare Beauty
Founded by Selena Gomez in 2020, Rare Beauty has quickly gained a big following in the beauty community thanks to beautiful products and for its emphasis on mental health and on self-acceptance. The brand's extensive range of foundation shades and its inclusive approach to beauty resonates with customers seeking a more uplifting and empowering experience. Clean ingredients are the brand's priority along with a focus on its environmental impact. Rare Beauty's vegan and cruelty-free status aligns itself with the values of many conscious consumers. Overall, Rare Beauty's commitment to promoting mental health awareness, in addition to prioritising ethical and clean practices, sets it apart in the beauty industry.
ECO DIVA Natural – Clean Beauty and Makeup
Eco Diva is a South African brand where natural ingredients and eco-friendly packaging are vital. What makes it clean, kind and ethical? The product range is eco-friendly, organic, non-toxic, chemical-free, paraben-free, sulphate-free, cruelty-free, vegan and beauty without cruelty certified. The clean make up range is very much a continuation of their healing skincare, hence the name Superfood Makeup. Their plant-based foundation, that has multi-purposes, covers imperfections flawlessly as well as nourishing the skin with nutrient-rich goodness and offering skin protection with SPF. A local brand that is out there doing the right thing and we think that really deserves our support.
Tata Harper – Clean Beauty and Makeup
Starting life as a skincare brand, sustainability has always been a vital part of Tata Harper's DNA. Above all else, they engineer products that are good for people and the planet. This is at the core of their mission. Similarly, the planet-first mindset is the key to sourcing maximal performance ingredients, manufacturing, packaging, shipping and more. Having introduced clean makeup into the range, the vitamin-infused cream blushes and highlighters are now amongst their best selling products. To sum them up, they're great for the skin and great on the skin.
Clean Makeup 101 Conclusion
In conclusion, clean makeup has become a real buzzword in the beauty industry. As a result, consumers are demanding more transparency and more eco-friendly products. The brands mentioned in this post are just some of those leading the way in creating effective, clean makeup products that are better for our health and the planet. As consumers, we can support these brands by making conscious choices. So, prioritising clean makeup in our daily routines is an important step. So ladies and gents, if you want to make your skin happy and your conscience even happier, then it's time to swap your old makeup products for some fresh and clean picks. Let's face it, who doesn't want to look and feel like a million bucks without breaking the bank or the planet?