It's finally the holiday season and you know what that means…sweet treats, festive decorations and parties galore! As those invites start to roll in, you may be wondering what to wear. Party hosts and guests want to look their best, so whichever end of the invitation you're on, it's the time of year to stand out from the crowd and there are a myriad of ways to achieve that with your outfit choices. Take a look at the party wear edit for some initial inspiration.
We recently held our first event at Onrotate where some of our Rotators came along to mingle, eat, drink and chat all things rental fashion all whilst trying on some fab Onrotate outfits. There was not an LBD in sight! It was all about the ultimate party wear: sequins, the feathers, the satin finishes and the corsetry.
Whether the festive events you're attending are office parties, family lunches, clubbing with friends, cocktail parties or a dinner with the girls, we've put together some ideas to give you some fashion inspo this party season.
No. 1 in the party wear edit – Sequins
It's the most obvious but the best! Nothing beats a sequin at this time of year and because we're in the festive period you really can go all out. Silver, black, pink or multi-coloured, anything goes whether it's a mini or a maxi or even a trouser set, sequins will bring joy and fun to any event.
No.2 Feathers
2022 has seen feathers everywhere from dresses to those infamous Nadine Merabi PJ sets. Bringing some fun to fashion, feathers add that extra bit of Hollywood-style glam to any party outfit.
No. 3 The satin slip dress
Thanks to celebrating the festivities during the summer months here in the Southern Hemisphere, the slip dresses provide a perfect base to any party look. In jewelled tones, they have become a wardrobe staple that can be dressed up or down depending on the occasion. It's often about how they're accessorised as to what look you want to achieve. Plenty of layered necklaces, hoop earrings and multiple or stacked rings are a must to add to that glammed up version of this versatile piece. Oh and a pair of sky high heels, whether platforms or otherwise, are a must!
No. 4 The corset dress
Seen on almost every runway for Spring/Summer 2022, the corset dress is just a delightful confection that needs very little adding to it to make you the talk of the party! Creating killer curves and confidence, this style of dress is fast becoming the piece that everyone wants to wear for parties thanks to brands like House of CB. What's not to love?
No. 5 in the party wear edit – Glitter bombs
An ever so slightly calmer version of party wear from the sequin number, the glitter number still packs a lot of punch at this time of year and offers an alternative sparkle to those little round discs. Dresses, trouser sets, you name it, glitter fabric certainly offers the wow factor. You can even match your make-up and handbag!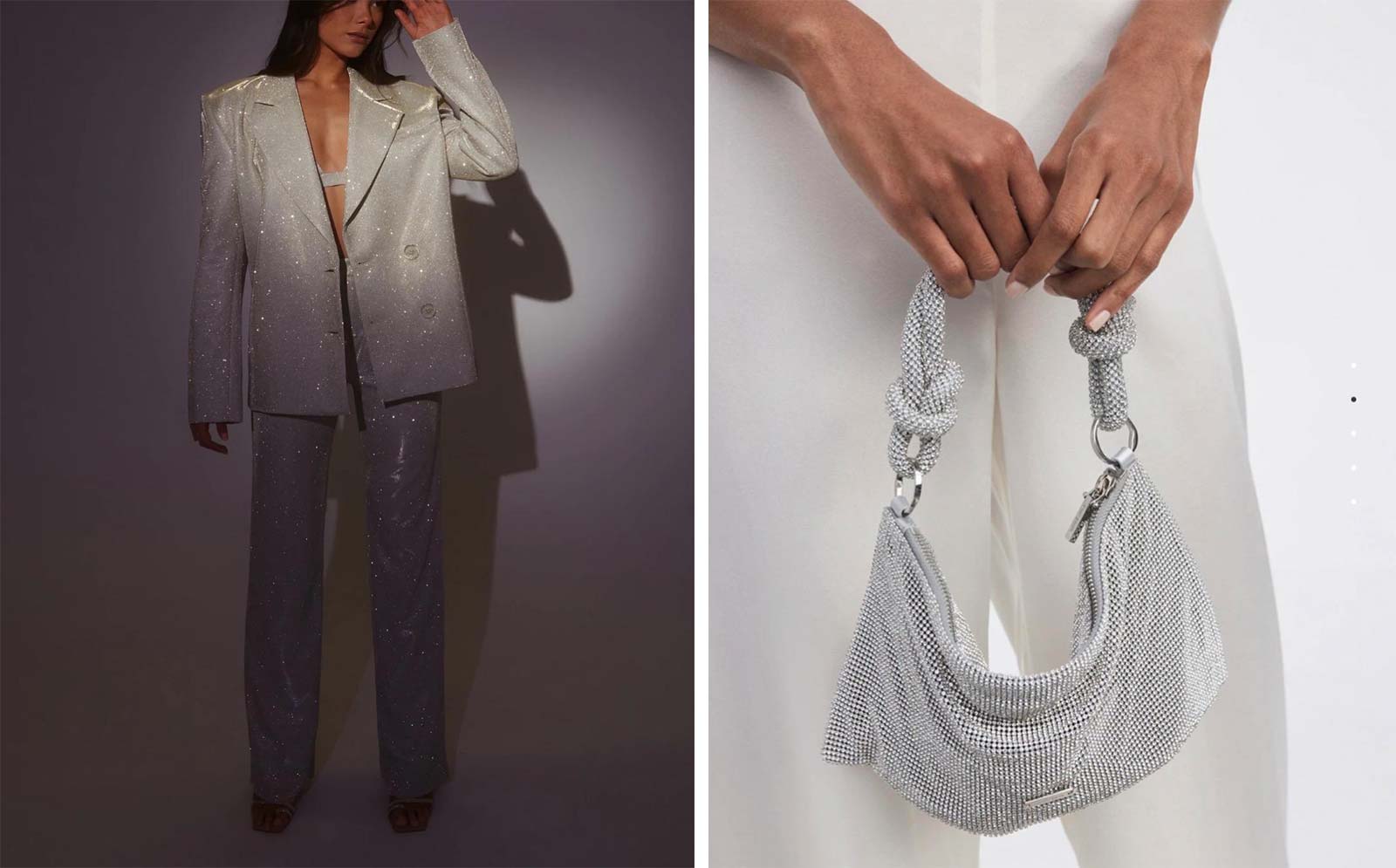 No. 6 The full length gown
Generally the domain of the black tie function, the full length gown offers a little old-school glamour. It's all in the fabric and the cut but this style of dress needs very little help in looking utterly fabulous.
No.7 in the party wear edit – The LBD
There will always be a time and a place for the LBD. It just won't date. Keep it modern with cutouts and detailed sleeves or classic with elegant detailing, either way the LBD is a great failsafe when everything else just doesn't seem to work.
It looks like we've covered most party wear options for this years' party season so now you just have to choose. Are you more sequins or feathers or something all together more subtle? Anything goes, so whatever outfit makes you happy and brings you joy, that's the one for you.
Now head off to those parties in style!